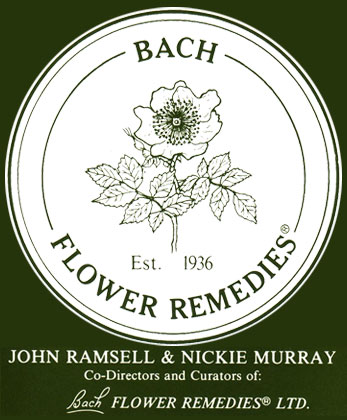 What are Bach Flower Remedies?
Bach Flower Remedies were discovered and developed by Dr. Edward Bach in England in the 1930's. Made from plants, pure spring water and heat, the Bach Flower Remedies are bottles of energised liquid (preserved in brandy) that, taken as drops, treat mental and emotional states. They dissolve negative states and flood you with the positive aspect of any condition.
The Bach Flower Remedies have been known in England for years, and are just now arriving in France. Extremely powerful yet wonderfully subtle, they can be used in conjunction with whatever other medicine you might be taking. I am a firm believer in the efficacy of the Bach Flower Remedies and cannot recommend them highly enough. I have been using them with clients since I took my first training in 1984. I am listed on the official International Register of Practitioners maintained by the Dr. Edward Bach Centre in the UK.
How can we use Bach Flower Remedies in our work together?
I like to use the Bach Flower Remedies as an accompaniment to any other work we are doing together. First of all, your act of purchasing and taking the remedies demonstrates your commitment to your own change process. Secondly, by remembering to take the remedies at least twice each day, you are putting yourself in charge of your own healing, avoiding the trap that traditional therapy often represents, of the client becoming overly dependent on the therapist. Thirdly, using the Bach Remedies enhances your ability to change, something which can be slow to follow from mere understanding. Of course I offer you other tools to assist change as well, but recommend that you avail yourself of the change energy of the Bach Flower Remedies as well.
Fourthly, the Bach Flower Remedies offer a tremendous support to you mentally, emotionally and spiritually, although in an extremely subtle way. Their energies help you to make smooth transitions from one state to another, without the distress that can be caused by change that is merely willed. Clearing away obstacles to your self-realisation that have existed for some time can bring upheaval even when carefully managed. By allowing yourself the comfort of using the Bach Flower Remedies you reinforce your message to your inner community that from now on you are going to be present, loving and supportive to yourself.
At the end of each session I will recommend the Bach Flower Remedies that I feel it is appropriate for you to take at that time. Whether you are having sessions twice weekly, or once every six weeks, or following some other rhythm, I will review your remedy combination at each session and make suggestions for change whenever I feel it is appropriate in your process of growth and change.
RECOMMENDED AUTHORS / TEXTS